News
PREMIERE: Tuccillo - Wannado [Deeplomatic]
Deeplomatic lanzará el álbum "Beat It Cancer" el 22 de Octubre, Día Internacional contra el Cáncer de Mama
Redacción Mixmag Spain
21 October 2021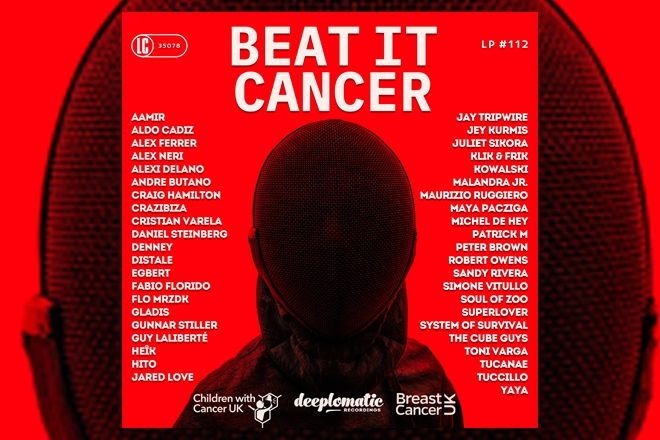 El álbum busca promover la concienciación sobre el cáncer a través de la música electrónica y al mismo tiempo incrementar las donaciones a las organizaciones de prevención contra el mismo. Para ello, Deeplomatic se ha unido a Breast Cancer UK y Children with Cancer UK, dos organizaciones benéficas que trabajan para prevenir el cáncer mediante la comprensión científica, la colaboración, la educación y las mejoras legislativas.
El álbum incluye un amplio catálogo de música electrónica exclusiva e inédita, con estilos que van desde el mejor Deep House, Techno y Tech House hasta el Jackin' House, Melodic Techno, Organic House, Nu Disco y Downtempo. Un total de 45 artistas de primer nivel de todas partes del mundo se han unido para hacer posible este lanzamiento.
"Testimonios de los artistas"
"Muchos de los artistas se sintieron unidos al proyecto desde el principio, ya que han perdido amigos, familia o compañeros a causa del cáncer. Para mi también es un proyecto muy personal y espero que podamos contribuir con nuestro granito de arena al colectivo que lucha contra esta terrible enfermedad'- Alex Ferrer.
Todos los beneficios del álbum serán donados de forma equitativa tanto a Breast Cancer UK como a Children with Cancer UK para la prevención y el estudio sobre el cáncer.
Colaborar : deeplomatic.com/beat-it-cancer/
Página Web: www.deeplomatic.com
Instagram: instagram.com/deeplomaticrec
Facebook: www.facebook.com/deeplomaticrec
Twitter: twitter.com/deeplomaticrec
Soundcloud: @deeplomaticrec
Youtube: www.youtube.com/deeplomaticrec
Spotify: bit.ly/spotifydp
Cargando siguiente articulo