News
Line Up completo y calendario semanal para la temporada de Paradise en Amnesia Ibiza
La fiesta de Jamie Jones tendrá su opening party el 21 de junio y el closing el 4 de octubre.
Generic Editor
21 April 2023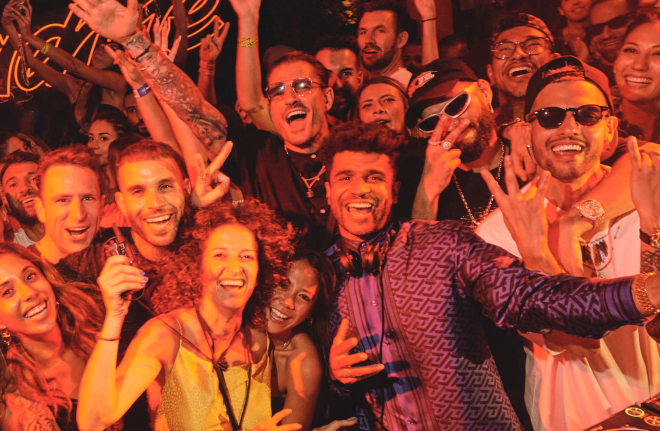 Si ya teníamos el hype muy alto con el anuncio del concepto y de las fechas de la nueva temporada de Paradise en Amnesia Ibiza, tras repasar su line up completo las expectativas han superado con creces la estratosfera.
Un batallón de artistas impresionantes se adentrará todos los miércoles del 21 de junio al 4 de octubre en el corazón de la selva tropical en la que se convertirá Amnesia. En "Night of The Jaguar" la jungla electrónica cobra vida invitándonos a un mundo de vibrante vida salvaje cuya banda sonora correrá a cargo de los representantes más estimulantes del sonido house y techno.
Jamie Jones encabezará una programación impresionante que contará con estrellas tan brillantes como Apollonia, Dubfire, Joseph Capriati, Lee Foss, Loco Dice, Michael Bibi, Nicole Moudaber, Seth Troxler, Skream, Solardo, Jackmaster, Traumer, Pawsa, Marco Faraone y The Martinez Brothers. El resto del line up está formado por un elenco ecléctico en el que estarán presentes grandes artistas consolidados y nuevas promesas que se suman al movimiento que Paradise ha implantado en Ibiza. Pero esto no es todo, más sorpresas y más nombres de artistas de renombre serán anunciados próximamente para ser parte de "Night of The Jaguar".
Si viviste en primera persona la pasada edición de Paradise, estamos seguros que regresarás a la fiesta más exitosa del 2022. Si no la viviste, este verano tienes una oportunidad única de ser parte de un evento que representa a la perfección el espíritu de Ibiza.
Tickets: https://www.tixr.com/groups/paradise/

FULL LINE UP
ALAN FITZPATRICK-ALISHA-AMÉMÉ-ANDRE SALMON-ANOTR-APOLLONIA-ARCHIE HAMILTON-BEN STERLING-BONTAN-BRUNO FURLAN-CALVIN CLARKE-CHELINA MANUHUTU-CHICKS LUV US-CHLOÉ CAILLET-CHRIS STUSSY-CINTHIE-COLE KNIGHT-DAN GHENACIA-DARIUS SYROSSIAN-DATELESS-DAVINA MOSS-DENNIS CRUZ-DJ FRONTER –DUBFIRE-EAST END DUBS-ENZO SIRAGUSA-FLEUR SHORE-HONEYLUV-HOT SINCE 82-ILARIO ALICANTE-JACKMASTER-JAMIE JONES-JEAN PIERRE-JESSE CALOSSO-JOEY DANIEL-JOSEPH CAPRIATI-JOSHWA-LA FLEUR-LEE FOSS-LOCO DICE-LUUK VAN DIJK-MALIKK-MANDA MOOR-MARCO FARAONE-MASON COLLECTIVE-MASON MAYNARD-MAX DEAN-MICHAEL BIBI-MS. MADA-NATALIA ROTH-NICOLE MOUDABER-PATRICK TOPPING-PAWSA-PIRATE COPY -RICH NxT-RICHY AHMED-ROBERT JAMES-ROSSI-SALOMÉ LE CHAT-SEB ZITO.SERGE DEVANT-SETH TROXLER-SHERMANOLOGY (live)-SHONKY-SIRUS HOOD-SKEPTA-SKREAM-SOLARDO-SWEELY -THE MARTINEZ BROTHERS-tINI-TOMAN-TRAUMER-wAFF-WHEATS-WILLIAM DJOKO- YULIA NIKO- MORE ARTISTS TBA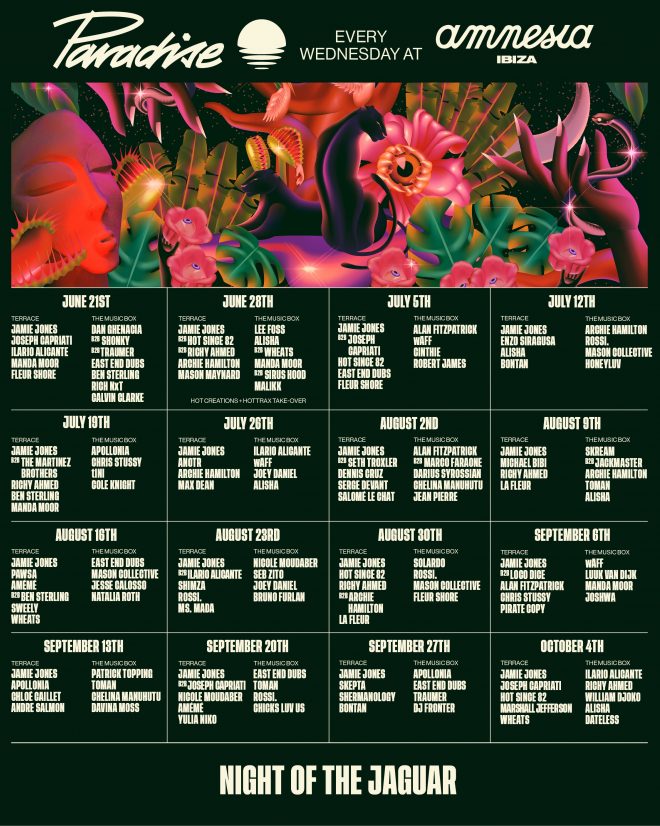 Cargando siguiente articulo